Are you a blogger, web designer or a business wanting to increase your web traffic and readership by creating sites accessible to people with disabilities – an under tapped market with more than twice the spending power of American teenagers and almost 18 times the spending power of the American "tweens" market?
Are you attending the South by Southwest (SXSW) Conference?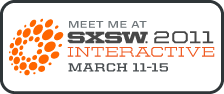 Join me for "The Untapped iPad Market: Is Your Site POUR?"
Date: Sunday, March 13th, 2011
Time: 12:30-1:30pm
Location: Austin Convention Center – Room 6AB
My text-to-speech software and PowerPoint are set to explore the following five questions:
How is the iPad life-changing for many people with disabilities?
What is the size of the disability market and its spending power?
What are the barriers people with disabilities face online?
What are the four guiding principles to creating accessible websites and blogs?
Where do you start in making your website or blog accessible?
I'm really excited about this session. It should be a good, jam-packed one. Please come up and introduce yourself. No need to be shy!
If you are not attending SXSW, you can follow along on Sunday with the hashtag #POURsite on Twitter.